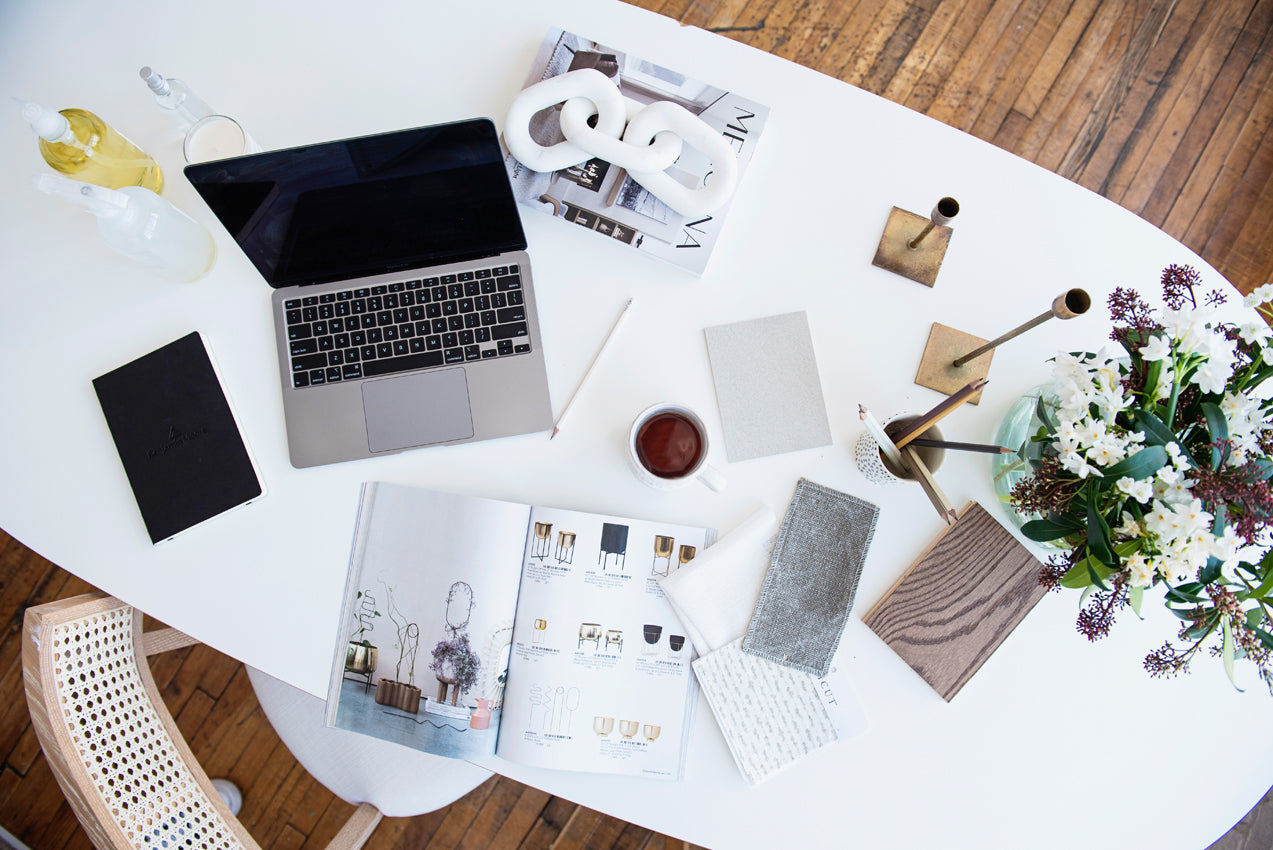 building the largest design community, together.
Since founding the program in 2021, our design community has evolved and grown in number significantly. Sun Ah Brock, owner and founder at LUX decor, is on a mission to build the largest design community in North America.
In a recent study, we found that 77% of interior designers are women (Source: Quebec Government, Statistics Canada). It is no secret that the field of interior design can be seen as frivolous, or superficial. Sun Ah's mission is to change this misconception by empowering women-led businesses and providing more access to suppliers, events on business and leadership coaching, and by offering designers a workspace they can call home.
not your typical trades program
From designers, to decorators and even architectural technologists, the LUX community program caters to all fields of design and offers so much value. Through joining the program, members receive access to a co-working space, events, reveal package, personalized coaching, private members only community, internal referral system, coffee bar and kitchen, trade perks and community.
join our community
MEMBERSHIP
For only $350 per year, you receive access to everything above.
From designers, to decorators and even architectural technologists, the LUX community program caters to all fields of design and offers events, a co-working space, trade discounts, dedicated support, among other things.
Not sure if this program is for you? Join your first event for free, and see for yourself! Book a complimentary discovery call for more information, and to obtain details on the next event.

what designers are saying about the program
Meet the team
Samantha, community program coordinator
With a background in photography and real estate, Sam was drawn to LUX for a special purpose. When Sun Ah discussed her vision for the community program with Sam, the aspect of community spoke directly to her, and Sun Ah's passion became hers as well. Over the past few years, we have seen the program flourish due to Sam's constant dedication and leadership. Through the events, growing product selection, and community building, the dream of building the largest interior design community is getting more real. At LUX, you can usually find Sam processing ready made and custom orders with design members, or chatting with designers at one of our many events.
Lisa, community & showroom support
Lisa joined the team at LUX decor after having became a LUX community member herself. As a designer, her attention to detail, passion for community and team player attitude are all skills that make her perfect for the role. Lisa's a mom of two beautiful kids, so she knows what it's like to wear multiple hats and get things done. In fact, her motto is "on it!" You can usually find Lisa merchandising new arrivals in the showroom, or meeting with design members to help select and package items for a finishing service. One thing we love about Lisa is that she's always there to help, and truly cares, because your success is her success!
"In an industry that is typically seen as frivolous, it's important to empower women"
- Sun Ah Brock, Owner & Founder
Our events cover anything from marketing and website building to product knowledge and wellness. Each event covers a theme, designed to help you build your business. We listen attentively to what our community wants to know about, and each event responds to a need.
No event is the same, which is the beauty of it! Each season offers a whole new calendar of events for you to sign up to, either online or in person.
Absolutely! All our events are offered online, and our coordinators are available to hop on a call with you for support on orders, training, etc.
Absolutely! Simply give one of our team members a heads up regarding the visit and we will be happy to help them with all their questions.
Anytime! We have a vast assortment of memos, or even fabric books that can be borrowed. Counter samples and carpet samples are also available. We have a borrowing system in place and it works very well!
We are not currently open on weekends, or in the evenings, as our hours are 9 am to 5 pm from Monday to Friday. However, should a designer require this, it can be arranged upon appointment made with an affiliate staff member.
No, our program is open to anyone in the interior design field, whether you are a student, or have an established career. We welcome those in home decor, home staging, styling, and even organizing! Anyone from the interior design community is welcome to take part in the program.
Yes, one-on-one time is encouraged, especially to get you started! By joining the program, you will have access to all the benefits, including training on how to work with our suppliers, meetings for custom orders, and more. Drop in anytime, or book time in advance. We are like a close knit family, so if you need anything, just ask us!
We also offer events for smaller groups for more individualized help, such as with our Dinner & Designer and Breakfast Workshops.
Upon signing up, you will receive a program overview with one of our coordinators. They will provide details on each supplier, and how to work with them.
Also, we welcome new suppliers, so if you have any suggestions, please let us know. If they have something you like, the chances are someone else will like them too.